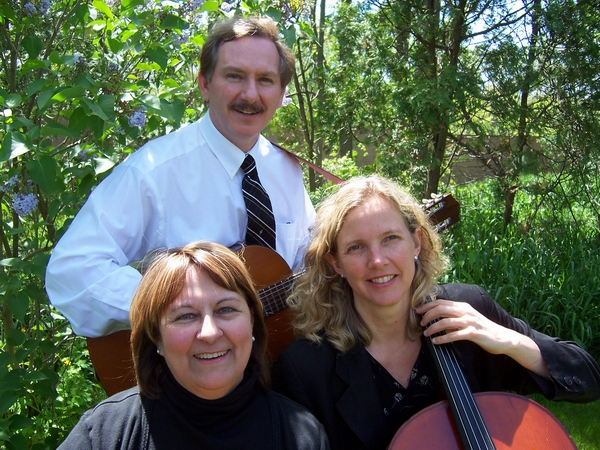 Player Bios
Player Bios
Peggy Bellenger- violin- is a wonderfully expressive performer. Her performance experience includes the Greece Symphony.
Heather Hutton- cello- Having had a passion for music all of her life, Heather Hutton has been playing the cello in Stringplicity for twenty-five years. She has been an accompanist for school music groups, including high school choruses, girls' ensembles, and NYSSMA festivals. Heather also enjoys performing in vocal groups such as LumenEssence (a women's Jazz trio); Sanctuary and Skylark.
Doug Riter- violin, guitar- is a composer/arranger/musician who has recently recorded 2 CDs of original music, written pieces for school orchestras and taught for many years in the Webster School District. He also currently plays keyboards/violin for the Rochester based R&B/rock band QuaziMojo.
About Us
Stringplicity is a string trio that offers a wide range of music, a wealth of experience and a friendly, personable demeanor. Originally started as a classical music trio for weddings and special events, we specialized in music by Bach, Mozart, Haydn and other composers. We have now developed what we call our "Coffee House Set" featuring a combination of classical and popular music with many blended arrangements. Pachelbel's Canon for instance moves seamlessly into Unchained Melody, an Irish Melody segues into "Fields Of Gold" by Sting, and our version of Led Zeppelin's "Stairway To Heaven" stands alone as one of our crowd's favorites. Lately, we've used the music of many genres for our performances in order to appeal to a wider audience. From weddings to anniversary parties, special events to our coffee house shows, Stringplicity has music for your special event. Take a minute to browse our site and listen to samples of our music. Contact Peggy at Stringplicity@rochester.rr.com